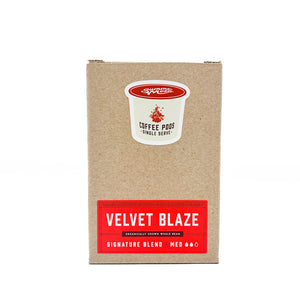 Velvet Blaze Coffee Pods
Signature Blend
|
Medium
12-Pack
|
$14.95
Please allow us 1-2 business days while we work to fulfill your order. You will be notified when the order has been fulfilled and has shipped.

Our signature blend, Velvet Blaze, is now available in fast, easy single-serve coffee pods! A blend of beans spanning the globe. Roasted with a flavor as intense as the flame that birthed it, as rich as the soil it was grown in, and as smooth as the law will allow. 

12 single-serve cups per case. For use in K-Cup brewers. 100% recyclable.